Crew neck sweaters for men and women
Crew neck? Always a good choice!
The crew neck is a classic when it comes to sweaters. It is an essential basic in a well-stocked closet. Whether at the office or in your free time – a crew neck sweater can be combined in a variety of ways. In spring and summer, a sweater in pure mako cotton or cotton-acrylic blend is a good companion for the warmer days. Combine it with a jeans or a chino and you are always perfectly dressed on your way to play tennis or golf. Whether combined with a skirt, blazer or suit jacket, you will always be well-dressed with a crew neck sweater.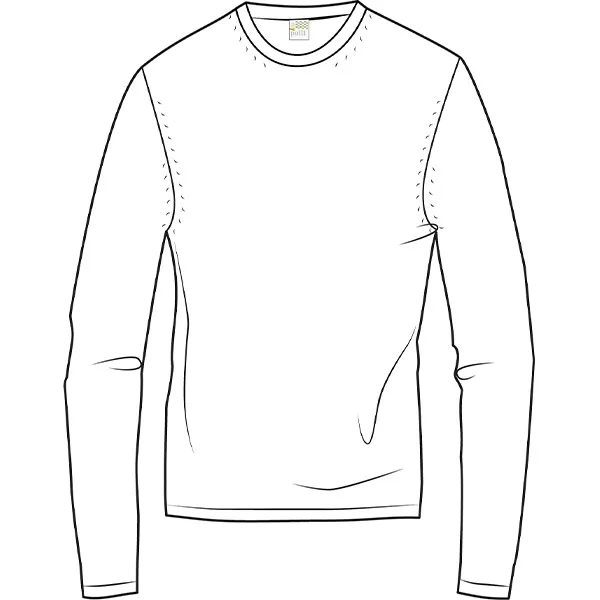 Different wools have different advantages
It feels good to wear a my pulli sweater. They offer an impeccable fit, even during long drives and trips. You can always rely on turning up perfectly dressed for a meeting, although having travelled a long way.
For lower temperatures, we offer crew neck sweaters in merino wool and merino blend.
If you are a lover of soft and comfortably warming cashmere, we at my pulli manufacture crew neck sweaters from this exclusive material for you. Whether we work with cotton, merino or cashmere, we produce sweaters in standard, petite and tall sizes as well as tailored to your measurements. Because conventional sweaters are often too short or sleeves are not long enough, shoulders are too broad and you need more fabric on one end or the other. Sometimes the crew neck is too tight, giving you an unpleasant feeling. With us, you can choose the measurements you need.
Find out more
You choose how deep and wide you want your crew neck to be
The crew neck has a wide range of varieties that modify the look of the person wearing it in a very special way. A shallow neckline like the crew neck flatters petite women with a long neck and a small face. The rather high neckline accentuates her softness and makes her shine.
Especially tall women with a round-shaped face and a strong neck should choose a wider and deeper crew neck to balance out proportions. It draws the eye upwards and flatters the bust and waist. A wider neckline helps broader shoulders appear narrower.
You can also adjust the depth of the neckline to the length of a necklace or choose a depth you feel comfortable with.
For men, there are also different options available. To style the crew neck sweater more sporty, combine it with a scarf and give the classic neckline a casual look. Wearing it over a dress shirt converts it into a more formal outfit. You can vary on the size of the neckline and emphasize your individual features.
If you are wearing a crew neck sweater over a dress shirt, the collar should be tucked in. This looks good in combination with a button-down shirt as it does with a hidden button-down collar shirt. Customise to accentuate the features of the dress shirt. If you like to wear a dress shirt underneath you sweater, take into account other necklines, too. A nice V-neck is also an option for this style. Find more information on other necklines, such as the boat neck and the roll neck, on this website. There, you will find recommendations on how to flatter your silhouette, too.
The contrast stripe, a stylish detail
Contrast stripes around the crew neck, the hemline and the sleeve cuffs give your sweater an individual touch. You can choose from a wide range of colours, all combining well with each other. If you want to get an impression on colour, yarn and quality, order a fabric sample. They are available for a refundable fee.
Quality and customer service come first
Quality is essential at my pulli. That's why we only employ experts in the production process of my pulli. To manufacture a high quality product, many different steps are involved which all have to be coordinated. The people who are responsible for the beautiful sweaters finding their way into your closet are dedicated to detail and accuracy. The company philosophy not only emphasises on quality and customer service, but also on good working conditions for the employees.
The most positive feedback we get from satisfied customers who are happy with their new crew neck sweater. If you try out the quality and comfort of my pulli once, you don't want to miss it ever again. Experience the uniqueness of our my pully premium sweaters yourself!